Afterschool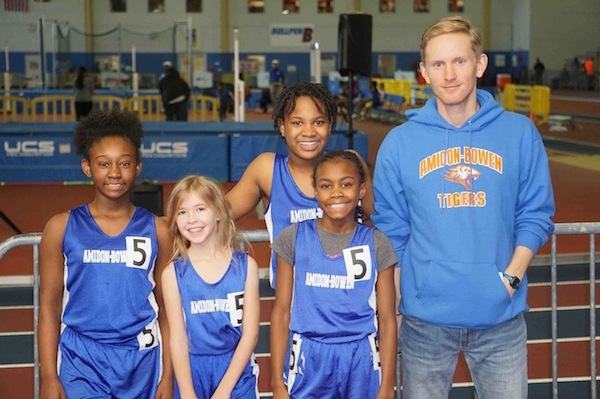 The Afterschool program is managed by the DCPS Out of School Time office and supplemented by school sports and clubs and pay-for extracurricular activities.
Program Contact

Ms. McLeod, Administrative Aide
Ms. Diamont, Dean of Students (Email)
Ms. Dotson, DCPS Out of School Time Analyst (202-603-3717 or Email )
Sports
Amidon-Bowen has one of the best sports programs for elementary students in the District of Columbia, and 10 different sports are offered. In the fall, Amidon-Bowen offers competitive co-ed soccer and boys and girls cross-country. Winter sports include junior varsity and varsity cheerleading, boys and girls basketball, and indoor track. Spring sports include co-ed soccer, boys and girls outdoor track, co-ed flag football, and co-ed kickball.
Fees
Beginning in the 2016-17 school year, some families will be charged a small fee for Afterschool (approximately $5 per child per day). If your child participates in a school sport or club or pay-for program only (and does not participate in the general Afterschool program), no fee is required.
Food
Students enrolled in Afterschool will be provided with a snack, free of charge, usually consisting of a salad, a sandwich, a piece of fruit, and milk. The snack is prepared by the same vendor that provides breakfast and lunch to all students.
Enroll
When you enroll at Amidon-Bowen, ask Ms. Cureton for your child's ID to register for Afterschool. Wait 2-3 days after enrolling, and then starting on May 1st, 2017, enroll your child in the Afterschool program by following the links and prompts at https://dcps.dc.gov/afterschool. You MUST register your child for Afterschool for your child to participate, and it is offered on a first-come, first-served basis.
PK & K Students
Parents of PK and K students may opt to enroll their child in a pay-for activity after school. The programming and pricing will change each season. For Fall 2017, the following programs are available. Parents must sign up with each outside organization to enroll their child in the activity.
Soccer
Soccer will be offered on Wednesdays from 3:45 to 4:45 PM during the fall semester. You may enroll your child to participate in 8 sessions at $10 per session or $80 total. To enroll your child, visit THIS SITE and click on "Register" and then "Amidon Bowens after school."
**Sponsorships are available for families who are interested who do not feel that they can pay. Please contact your child's teacher for more information.
Language immersion in Spanish & Chinese
Mind Bloom will provide language immersion on Tuesdays and Thursdays from 3:45 to 5:45 PM in both Spanish and Chinese during the fall semester. Students will participate in activities while instructors who are native speakers will use full language immersion. You can sign up for two days a week or only one day of week. The cost is $15 per session. Sign up HERE.
**Students who would like to participate in these activities but who do not participate in Afterschool may do so, and parents can pick up their children after the activity. All students will be provided a snack at 3:30 PM.