Special Subjects
The daily schedule for all students in PK3 through 5th grade includes at least one "Special." These classes further enhance student learning and provide a well-rounded elementary school experience that allows students to develop a variety of skills, competencies, and interests.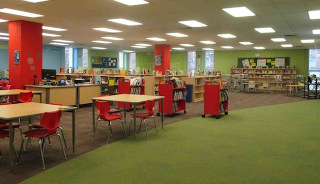 Library
Students may visit the library with their class during the school day and check out books. Our library is a place of unbridled knowledge which can open the minds of our students. Our library has over 5,000 books from PreK through 5th grade. The library is only to be used for academic purposes only. It is a place for knowledge and thought.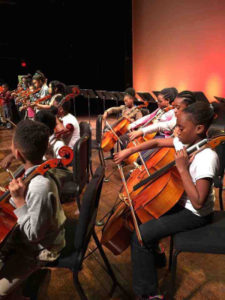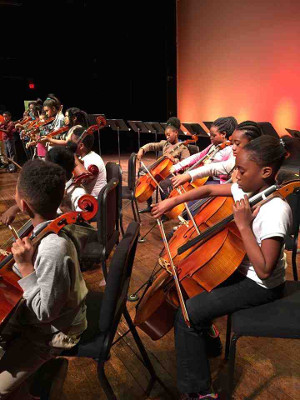 Music & Choir
The Music and Choir program is directed by Ms. Para Perry, a 2014 winner of the coveted Excellence in Teaching Award. During music class, students are introduced to the fundamentals of music practice and performance and enjoy exposure to drums and other instruments. The Amidon-Bowen choir has been given numerous opportunities to sing at concerts throughout the city and special programs from the Mayor's office to the Capitol Building. In addition, 15 students annually participate in a specialized violin instruction program, sponsored by CHIMES, Principal Miller, and the PTA. The year-long training, complete with a violin loaned to each child for the duration of the course, culminates in a concert.
Art
Students will experience oils, crayons, abstracts, and it will be fun. Student art is exhibited in expos throughout the city, and students enjoy field trips to the National Gallery and other world class art institutions. Throughout the school, you will see student art work adorning the hallways. The school's art teacher also offers an afterschool art club to students who are interested in greater exposure to art.
Physical Education

Physical education is an important part in the development of all children. We strive to teach the children the importance of proper nutrition and daily exercise, and weekly PE classes give children the opportunity to develop physical skills while learning about teamwork and competition. Amidon-Bowen is one of the few elementary schools in the District of Columbia to have a full-size dedicated gymnasium, a full-size baseball and athletic field, and a practice artificial turf soccer field.
Spanish
Amidon-Bowen employs a full-time Spanish teacher, and students in all grades attend Spanish class once a week.
Science, Technology, Engineering, and Math (STEM)

Amidon-Bowen has recently added a schoolwide STEM focus, and all students (PreK – 5th) will be exposed to STEM. STEM integration is the instructional approach that promotes the implementation of STEM integration and showcases STEM skills and programs. The goals of STEM integration are to improve student readiness for STEM majors and careers as well as prepare all students to be STEM literate citizens.